Hop in our (virtual) car as we take you on a road trip through California's best pinot noir regions. Commentary along the way ensures you'll learn all about this unique wine, including what it tastes like and the best years for California pinot noir.
Name 3 things about California: go. (We'll wait.) Did you conjure up images of white sand beaches, palm trees, and the Hollywood sign? Same. But there's a lot more lurking behind those slices of postcard perfection. Like wine, lots of wine – and particularly pinot noir.
If you haven't tasted a California pinot noir wine, we're not gonna lie – you've been missing out. Home to some of the world's finest pinot noir producers, the microclimates of California are the ideal growing spots for pinot noir grapes.
What makes California pinot noir unique?
California pinot noir wine is unique because pinot noir grapes shouldn't really grow and thrive there – but year after year Californian wine makers produce millions of cases of incredibly tasty tipples.
More than most varieties of wine, pinot noir reflects its terroir (fancy way of saying where it came from). A finicky grape, pinot noir needs cool nights, plenty of fog, and sunny (but never hot – too much heat can boil the grape) days to properly develop its dark colour and distinctive aroma. Strike one against California.
But where California excels is that it's not excessively rainy (too much rain causes mould growth, something pinot noir is susceptible to).
Plus, pinot noir enjoys cold soaking (a long, cool run-up to fermentation) as it reminds the grapes of their Burgundy roots and the cool autumnal temperatures in a traditional Burgundian cellar. Thanks to the invention of stainless steel tanks and cooling systems, California can replicate this.
So although the dry, sunny Californian weather doesn't seem like a decent match for the pinot noir grape, in fact it really is. That's because it's got such a wide range of microclimates. The Pacific Ocean's cooling breezes, especially in the Central Coast, Sonoma Coast, and Southern Napa Valley, really help too.
What does pinot noir from California taste like?
Where your California pinot noir wine comes from influences what it tastes like. Warmer regions, like the Russian River Valley, produce richer, fuller pinot noir that tastes like darker fruit. Cooler regions, like Sonoma Coast, produce lighter pinot noir that tastes like red fruit with floral notes and a hint of minerality.
California pinot noir wine regions
To find the best pinot noir in California, head to these regions:
Mendocino County.
Sonoma County.
Napa Valley.
Central Coast.
San Luis Obispo County.
Santa Barbara County.
Monterey County.
Mendocino County
Thanks to its lengthy coastlines and rugged mountains, Mendocino County has a cool climate and feels marine-like. It's here, in a 15-mile long valley, that you'll find Anderson Valley which is famous for its pinot noir. North of Sonoma and Napa, it boasts warm daytime temperatures, cool nights, plenty of fog and rich soil – everything that pleases the pinot noir grape.
Tasting notes:
Earthy.
Floral.
Bright red fruit.
Bold.
Sonoma County
Most of the pinot noir from California comes from Sonoma County: about 30% of it. Inside Sonoma County you'll find popular pinot noir growing regions, like Russian River Valley with its
cooling overnight fog and lack of blazing sunshine, Fort Ross-Seaview with its steep terrain and high elevations, Sonoma Coast with its cooler temperatures and mix of sunshine and rain, and Carneros with its low-lying hills and morning and afternoon fog. (Carneros is one of the most famous pinot noir growing regions in California and it includes parts of both Sonoma and Napa counties.)
The taste of pinot noir from Sonoma County depends on where it's grown. Around Russian River Valley, you'll enjoy red fruits, florals and minerals. Along the coast it has more of an earthy taste. Closest to the Bay, you'll enjoy more intense flavours, including spiciness, and a deeper colour.
Napa Valley
Most of the pinot noir from the Napa Valley is grown in Carneros. Foggy and fairly windy, it has pinot-loving cooler temperatures.
Tasting notes:
Fruity.
Spicy.
Perfectly acidic.
Slightly earthy.
Central Coast
The Central Coast region is pinot noir grapes' dream location. It's got cooling breezes, fog and temperate conditions. Pinot noir from the Central Coast has a varied taste. The northern regions produce spicy, red fruit laden pinots. While the southern region pinots taste more savoury with dark fruit notes.
San Luis Obispo County
In this county you'll find Edna Valley and Arroyo Grande Valley, both of which can be found to the west of the mountains. This means cooler days and lots of fog – ideal for pinot noir grapes.
Tasting notes:
More full-bodied.
Silky in your mouth.
Dark fruits.
Earthy.
Santa Barbara County
Close to the coast, Santa Barbara Country enjoys plenty of fog and cooling breezes to produce complex pinot noirs that include its trademark acidity. One of the best growing districts is Sta. Rita Hills. A small area, most of the vineyards are only 10 miles from the Pacific Ocean helping it to be one of the coolest wine regions in the world.
Tasting notes:
Spicy.
Red and dark fruits.
Monterey County
Visit Monterey County wine region and you'll find around 85 growers and wine makers. With the ocean nearby, including Monterey Bay's deep marine canyon, it benefits from a temperate, cool climate, elevated slopes that capture the morning sun, and a long growing season that's ideal for pinot noir. One of the most well-known pinot noir wine growing areas is the Santa Lucia Highlands.
Tasting notes:
Fruity – black cherry, rhubarb, dark fruit.
Spicy.
Final tasting note: best years for California pinot noir
You've sussed out the best region to buy from, but what year has produced the best wine? The short answer is: it depends on which California pinot noir region you buy from.
The long answer* for the absolute best years for California pinot noir across most, or all, regions is:
2004 – all except Carneros.
2007 – all except Carneros and Santa Barbara.
2009, 2016, 2017, 2018 and 2019 – all.
*According to the Wine Spectator vintage ratings where a score of 95-100 makes a wine 'classic'; or 90-94 'outstanding'.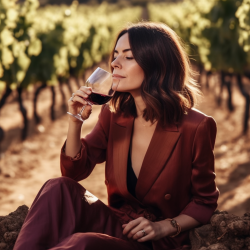 Latest posts by Sarah Perez
(see all)