Pinot noir is a versatile red wine so really, you can pair it with pretty much any food you fancy! It's especially great with mushrooms, cheese and meat which you can incorporate into any stage of your meal. We'll show you how with our appetizer, entree, side, dessert and snack ideas.
Forget A to Z, we're taking you through the A to D of pinot noir food pairing. (That's everything from appetizers to desserts.) If you've found your perfect pinot noir, you want to savour the experience and enjoy every drop of this deliciously delicate and dry red wine. What you don't want is to overpower your mouthful with too strong tasting food. That's why we're here to help you learn all about pairing pinot noir with food – read on! 
The best food to pair with pinot noir
Great news – pinot noir is one of the most versatile red wines to pair with food. Which basically means, you can't go wrong with whatever you decide to enjoy your pinot noir with. As a smooth, dry light red wine with both fruity and earthy flavours, it complements a huge range of food, from turkey and chicken to salmon and veggies.
Whatever stage of your meal you're planning – appetizer, entree, side, dessert or even just snacks – read on to find out what food goes with pinot noir.
Appetizers
Pinot noir is perfectly suited to a lot of appetizers, especially charcuterie (fancy name for cold cooked meats) and cheese. But the absolute best pinot noir appetizer pairing? Mushrooms, especially stuffed ones! Pinot noir already has earthy, forest floor notes so mushrooms bring out these flavours beautifully. In return, the bright fruity notes of pinot noir lift the flavour of mushrooms – it's truly the ultimate pairing.
Try pinot noir with the following appetizers:
Charcuterie.
Cheese. The ideal pinot noir cheese pairing is delicate cheese (like Taleggio), nutty cheese (like Gruyere) and soft cheese (like Brie). Throw a few dried strawberries and cherries on your cheeseboard and you'll match the dark red fruit flavours of pinot noir perfectly.
Stuffed mushrooms.
Truffles. Go all out and treat yourself to some decadent truffles to bring out the depth of your pinot noir.
Asparagus wrapped in bacon.
Entrees
Pinot noir brings out the best in meat but it's also delicate enough for seafood and fish. Vegetarians are well-catered for too. Not only because of large meaty mushrooms like portobellos, but pinot noir can balance a range of veggie dishes, especially risottos, and complement spring veggies.
Try pairing pinot noir with:
Roast turkey. Pinot noir's dark red fruit notes act like a bite of cranberry sauce.
Most meat, including chicken, pork, rabbit and duck.
Lamb chops. Make like the New Zealanders who are known for both their lamb and their pinot noir. Fruity pinot noir complements this tender meat perfectly.
BBQ pork ribs, as the acidity of pinot noir balances the richness of the meat.
Pizza, especially pepperoni.
Salmon – both cold smoked and meaty hot salmon. Although the fishiness of salmon can clash with deeper red wines, the silkiness of pinot noir slides down wonderfully.
Vegetarian dishes like veggie risotto and vegetables including butternut squash, Brussels sprouts and asparagus.
Sides
Make sides the main attraction by choosing your pinot noir food pairing carefully. With its ability to complement vegetables, pinot noir will bring out the best in the following sides:
Beet salad with goat cheese. Not only do you get the earthiness of beets, but you get the creaminess of goat cheese that brings out pinot noir's fruitiness.
Salads generally.
Vegetables, especially mushrooms and spring ones like Brussels sprouts and asparagus.
Desserts
When it comes to pinot noir dessert pairing, it's good to understand that as a dry red wine, pinot noir isn't traditionally a dessert wine. It's not sweet enough and might not always work with sweeter dessert foods. But, as we all know by now, pinot noir is incredibly versatile.
Here are some desserts to try alongside pinot noir:
Cheese. Go old school and serve up a post-dinner cheese board. Your pinot noir (and guests) will thank you for it.
Chocolate-covered strawberries. Some pinot noir, especially ones from New Zealand, has notes of chocolate as well as dark red fruits. So it makes sense to pair all these tastes together.
Chocolate-based desserts. Again, rich chocolate will complement the chocolatey, fruity flavour of pinot noir perfectly.
Snacks
Curling up in front of the TV with a glass of wine? Elevate the experience with the ideal snacks, like:
Cheese and crackers.
Salami and other cold cooked meats.
Nuts and dried fruit.
Small pieces of chocolate.
Plain potato chips.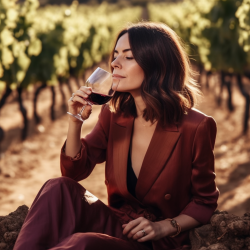 Latest posts by Sarah Perez
(see all)