Forget a long-haul flight, we'll virtually take you to New Zealand and help you explore its different pinot noir wine-making regions. You'll also learn what makes pinot noir from New Zealand so unique (spoiler alert: it's the climate, environment and wine-making techniques).
If the only thing you know about New Zealand is what you've seen in the Lord of the Rings movies, friends, you're missing out. Sure, there's a total lack of orcs and Hobbits, but this country certainly makes up for it with wine.
One of the youngest wine-producing countries, with wine roots only going back to the mid-20th century, New Zealand has quickly become one of the world's top wine-producing countries. Nowadays, New Zealand is known for producing some of the best sauvignon blanc ('sav' to the Kiwis) and pinot noir in the world. Here's everything you need to know about New Zealand pinot noir.
What makes New Zealand pinot noir unique?
Pinot noir from New Zealand is the millennial of New Zealand wine, with the first bottle released in 1987. Since then, the popularity of New Zealand pinot noir has exploded. Why? Well, for starters the finicky pinot noir grape thrives in the temperate climate.
Famously difficult to please, pinot noir grapes are fairly delicate, needing just the right balance of rain and sunshine. Too much, or too little, of these and the grapes won't grow and are at risk of becoming diseased or mouldy.
New Zealand provides the ideal climate for pinot noir grapes, with a wide range of terroir (the environmental conditions, like soil and climate) throughout its wine-growing regions. Namely: the New Zealand weather can be cool, dry, sunny and windy. The landscape can be mountainous and coastal. This is all music to the pinot noir grape's tiny ears.
The other thing that makes New Zealand pinot noir unique is the winemaking techniques used. Known inventors (it's the home of bungy jumping after all), Kiwi winemakers aren't afraid to take risks and experiment. But Kiwi pinot noir winemakers stick as closely as possible to the original pinot noir crafting steps found in Burgundy, France (where pinot noir was born). These authentic steps include:
Reduced maceration time. This is the process when red wine gains its colour and tannins. It involves crushed grapes, seeds and stems being soaked in wine.
Less punch downs. This is when the solid bits of the grape (think skins, seeds, stems and pulp) are broken up during fermentation to create more colour and flavour.
Fermenting whole grape clusters, rather than individual grapes.
Trying not to use new oak in barrel ageing, as that can affect the taste.
Opting for natural wine ageing in cellars.
What does New Zealand pinot noir taste like?
The short answer is that it depends on where the grapes are grown. Pinot noir from Marlborough tastes bright and fruity, with raspberry, cherry and plum notes. Central Otago pinot noir combines soft, sweet, fruitiness with herbs and spices. Pinot noir from Wairarapa tastes a little more savoury, with hints of dark plum and even chocolate. While North Canterbury serves up earthy pinot noir with dark berry and spicy notes.
New Zealand pinot noir wine regions
You'll find some of the best pinot noir from New Zealand in these regions:
Marlborough.
Central Otago.
Wairarapa.
North Canterbury.
Marlborough
On the east coast of New Zealand's South Island, Marlborough is one of New Zealand's sunniest and driest spots, yet it remains pinot-pleasingly cool. It's also New Zealand's largest wine-making region, with over 2,700 hectares dedicated to pinot noir. Valleys and vines compete with sheltered waterways, crystal clear waters and white sand beaches.
Tasting notes:
Red fruit.
Bright raspberry, cherry and plum.
Fresh with subtle acidity.
Central Otago
Central Otago in the bottom of the South Island is the world's highest and most southerly wine-growing region. Boasting a continental climate, the hot (but not too hot) summers and cool winters plus the glacier-enriched soil combine to produce deliciously elegant pinot noir. Some of the best vineyards can be found in the Gibbston Valley.
Tasting notes:
Sweet and soft.
Fruity – raspberry, strawberry and cherry.
Fresh herbs, especially thyme, and spices.
Wairarapa
New Zealand's smallest wine-producing region at the bottom of the North Island, it makes up only 1% of New Zealand's wine: the Wairarapa is all about the quality, not quantity. Over 60 boutique winemakers call it home, some of who produce what's known to be some of New Zealand's best pinot noir.
Tasting notes:
Darker fruit and somewhat savoury aroma.
Rich, full, sweet fruit.
Dark plum and chocolate.
North Canterbury
North Canterbury holds an enviable spot on the east of the South Island, where pinot noir grapes enjoy the hot, dry northwest winds. A range of environments and soil types, including volcanic, clay and limestone, helps to produce complex and layered pinot noir.
Tasting notes:
Red and dark berry, with spicy notes.
Savoury and earthy.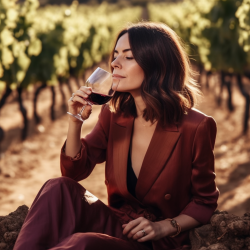 Latest posts by Sarah Perez
(see all)