The price of pinot noir varies, depending on how much you're willing to spend and how fancy you want your wine. Expect to spend anywhere between under $10 up to $33,000, with your everyday bottle costing around $20 to $45.
The same way you judge a book by its cover even though you're not supposed to, price plays a big part in wine-choosing decisions. Especially when you're faced with rows of beautiful bottles of pinot noir – how the heck are you supposed to pick the right drop? Sure, you might hop online and check out the winemakers or regions but it's the end of a long day and you just want a nice glass of red. We've got you covered: here's a guide to the price of pinot noir so you know what to expect before you hit the shops.
How much does a bottle of pinot noir cost?
Pinot noir is a popular tipple. It's most commonly used in red wine, but white pinot noir does exist (it's also 1 of the 3 official grapes of champagne). Although pinot noir grapes are grown widely around the world, they're really picky grapes that need just the right amount of sunshine, rain and heat.
Thought to be one of the world's oldest grapes, pinot noir roots go all the way back to the first century. This is when the ancient Romans enjoyed it, thanks to its popularity in the recently conquered Gaul regions (in what later became France).
What does this all mean when it comes to pinot noir wine price? Pinot noir, especially from the Burgundy region of France where it hails from, is some of the most expensive wine around.
You can blame this on:
The finicky, difficult to grow grapes and associated costly maintenance and labour.
Where the grapes are grown (the terroir) as this affects their flavour.
Brand name and reputation.
Ageing in French oak barrels (these are expensive).
How long they can age. Pinot noir wine that ages for 15-20 years is more expensive.
But don't let that put you off. There are plenty of great options to suit all budgets, promise.
Looking for a pinot noir to use in cooking or just don't fancy spending a fortune? You can normally pick up a pinot noir from Chile or California for under $10.
After an everyday bottle and something to enjoy on a casual Friday night at home? You can pick up a decent pinot noir from the USA or South Africa for around $20 to $45.
Want to spend more on something a bit special? $60 to around $200 would get you a pinot noir from Australia, Argentina or New Zealand.
Stocking up the wine cellar or want to really impress? Bottles of top-end pinot noir go anywhere from $10,000 to $33,000. The most expensive pinot noir normally comes from Côte de Nuits in the Burgundy wine region of France.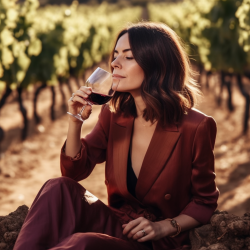 Latest posts by Sarah Perez
(see all)