What makes Oregon pinot noir wine some of the world's best? Is it the climate? The location? The oak ageing? Yes, yes and yes.
If you're a pinot noir pro, you've probably already heard about Oregon pinot noir. If you're not, well you've come to the right place – welcome! Oregon is known for producing some amazing pinot noir, thanks in part to its cool climate that closely mirrors Burgundy (aka the home of pinot noir grapes).
Here we'll take you on a tour of the best pinot noir wine regions of Oregon. Oh and top tip: pretend you know what you're talking about by casually dropping the Willamette Valley into conversation. That'll convince 'em.
What makes Oregon pinot noir unique?
Although not as young as New Zealand pinot noir, Oregon pinot noir is still quite a youngster. The first bottles of pinot noir from Oregon were made about 50 years ago, near the Chehalem Mountains in the Willamette Valley. Fast forward to today and Oregon's most important grape is still pinot noir, followed by pinot gris and then chardonnay.
Three things that influence the uniqueness of pinot noir from Oregon are:
Climate. Pinot noir grapes are difficult to grow. These picky grapes thrive in cool climates, like their birthplace of Burgundy. Oregon boasts a very similar climate to Burgundy. The winter is normally cool, wet and mild. Spring brings the rain and summer is warm, but with cool nights. This makes pinot noir grapes feel right at home. Plus, Oregon has rich volcanic soils that pinot noir grapes love.
Location. Oregano, and especially the Willamette Valley, shares the same latitude as Burgundy – it's truly pinot noir grapes' second home. South-facing slopes cloaked in morning fog create the perfect pinot noir growing conditions.
Oak ageing. Some Oregon pinot noir winemakers focus on crafting the ideal conditions for pinot noir, which is why they use top quality French oak barrels and longer ageing. Using French oak means Oregon pinot noir wine has notes of cinnamon, cloves and vanilla.
What does Oregon pinot noir taste like?
Rustic is one way to describe Oregon pinot noir – it doesn't have the fruit explosion that you might expect from a California pinot noir. Instead, you'll find they're elegant and light wines with beautiful acidity. You'll also get earthy, mushroomy notes with a subtle flavour and a hint of cranberries, raspberries and strawberries.
Oregon is known for producing 3 types of pinot noir, all with their own taste profiles:
Red pinot noir: elegant, light-bodied and fruity. If they're aged in French oak, you'll taste vanilla, cinnamon and cloves.
Pinot noir rosé: strawberries with floral aromas and a dry finish.
Pinot noir white: a rare type of pinot noir, Oregon pinot noir white has subtle red berry notes, with white flower and citrus aromas.
Oregon pinot noir wine regions
There are 19 official wine-growing regions (fancy name: appellations) in Oregon. Inside these regions there are over 750 wineries, producing over 70 different types of wine every year. But 60% of the vineyard area in Oregon is devoted to pinot noir so it's a popular drop.
The major pinot noir growing regions are:
Columbia Gorge.
Willamette Valley.
Umpqua Valley.
Rogue Valley.
Columbia Gorge
One of Oregon's oldest wine regions, Columbia Gorge is known as America's most unique wine region. That's thanks to its location in the heart of the Columbia River corridor. The western end, near to the Cascade Mountains, has a cool, marine-influenced climate with 36 inches of rainfall each year. Travel 40 miles eastward and it feels far more desert-like, with just 10 inches of average yearly rainfall.
Tasting notes:
Savoury and volcanic.
Spicy and smoky.
Willamette Valley
Can this be a guide to Oregon pinot noir wine without mentioning Willamette Valley pinot noir? We think not. It's Oregon's largest wine region and makes some of Oregon's best pinot noir thanks to its mild winters, sunny yet gentle summers and naturally well-draining soil. You'll most commonly find pinot noir from the Chehalem Mountain region of Willamette Valley.
Tasting notes:
Fragrant and delicate.
Medium tannins.
Elegant and silky finish.
Umpqua Valley
Umpqua Valley is the place where pinot noir (and riesling) grapes were first planted in 1961. These days, you'll find 3 distinct wine-growing areas. The northern area, near Elkton, has a rainy, sandy and cool climate that's ideal for pinot noir. The other 2 areas favour other grapes, including pinot gris.
Tasting notes:
Strawberry and raspberry.
Cinnamon and spice.
Dark fruit, especially cherry.
Rogue Valley
The climate of Rogue Valley means it can support both warm and cool-climate grapes. Each area of the Valley has its own microclimate and progressively higher elevation. It's the lowest and coolest vineyards in the western half of Rogue Valley that best support delicate pinot noir grapes.
Tasting notes:
Dark fruit, including cherry and plum.
Licorice and spice.
Mushrooms and earthiness.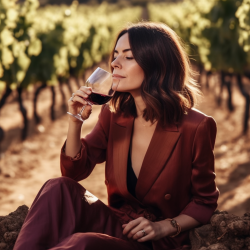 Latest posts by Sarah Perez
(see all)