Shrimp cocktail has one of the most unique and vivid flavors that you could ever taste. This is all because of the flavor of the shrimp itself as well as the shrimp cocktails sauce.
This is a combination of sea-salted shrimp and the cocktail's ketchup, horseradish, and hot sauce with a dash of lemon.
But what is the best wine to serve with a shrimp cocktail? We would recommend that you pick a light and airy white wine.
These types of wine have fruity notes such as peach, pear, and grape. These work perfectly with the light shrimp flavors.
So why do these white wines work so well with shrimp cocktails? Are there any other alcoholic beverages that work well with shrimp?
Is it better to serve shrimp with sweet notes or spicy notes? Well, we have compiled a guide to some of the best wines to serve with a shrimp cocktail.
Why Does White Wine Pair So Well With Shrimp Cocktail?
The main thing you have to consider when you are choosing the right wine for your dish is how heavy the meal is and whether the wine you serve it with is the same level of potency.
With a light but punchy meal like a shrimp cocktail, you won't want anything too powerful.
For a shrimp cocktail, white wine with a low alcohol content works best. If you have a lot of alcohol in your wine that it will burn when it meets the hot sauce and horseradish that is in your prawn cocktail sauce.
The fruity sweetness of white wine will similarly reduce the heat of your shrimp cocktail sauce.
The mixture of the sweet and the spicy also makes for a very satisfying final flavor. White wine acts as a palate cleanser, meaning every bit of your shrimp will be as fresh as the last.
So what wines are the best to pair with your shrimp cocktail? Well, we'll start with a brief rundown of the wines that pair well with shrimp cocktails.
Then we'll go more in-depth into each one to see what they bring to your meal, so you can see how they are suitable for your meal.
Best Wines To Pair With Shrimp Cocktail
White Wines
Riesling
Prosecco
Torrontés
Muscadet
Champagne
Cava
Sauvignon Blanc
Rose Wines
Sparkling Wines
Beers
Most of the wines that we have listed above have a very low alcohol content, which means they will not overwhelm the final flavor of the meal. Now you've had a chance to look at this brief list, let's have a look at each one up close.
Riesling And Shrimp Cocktail
This first white wine is one that is very popular, grown, and manufactured in many countries such as Canada, Australia, France, and Chile.
This has a zesty and mineral-rich taste, giving your shrimp cocktail that added punch without dominating your tastebuds.
This is a dry white wine, which means that you will taste more of the alcohol than you will the fruit and herbal notes.
This means it will work well with a cocktail sauce that has less spice in it. A dryer white wine will cause a hot cocktail sauce to be a little too sharp.
But overall, Riesling gives you a little punch when you first taste it, although it will not linger on your tongue for too long. This means that you can enjoy the flavors of your shrimp cocktail soon after sipping.
Prosecco And Shrimp Cocktail
This is a fun and lively sparkling white wine that you will often find at weddings and birthday gatherings. This is often the wine that kicks off an event, with plenty of fruity touches of apple, pear, and even almonds.
Prosecco is a mild wine with very low alcohol content, so you can still enjoy all the punch of your shrimp, horseradish, hot sauce, and lemon.
Prosecco will cool your tongue down after you have taken a bite out of your spicy cocktail sauce.
This is a very popular wine as it also pairs with a lot of other appetizers including bacon, cream cheese, crackers, salmon, and avocado.
You won't need a lot of this wine with your shrimp cocktail, as a tiny sip will be enough to wash away the more intense flavors.
Rose Wine And Shrimp Cocktail
Rose, as you can probably tell by the name, comes with plenty of fruity notes including strawberries, raspberries, and cherries. Along with the low alcohol levels, this one really draws out some of the bolder flavors of your shrimp cocktail.
This is a very acidic wine, which will help you to round out some of the spicier elements of your shrimp cocktail.
This is the perfect drink to have at a celebratory event such as a baby shower or a wedding. The bubbles also make for a much brighter beverage.
Muscadet And Shrimp Cocktail
This next wine has a salty undertaste, which makes it perfect for pairing with sea-tinged shrimp. Muscadet has flavors like apple and lemon, which is perfect for refreshing your palate in between each mouthful of hot cocktail sauce.
The crispness of Muscadet takes the edge off some of the spicier elements of your shrimp cocktail sauce, which is great if you prefer a milder starter.
If you want to add some added saltiness to this seafood dish, then introducing Muscadet will also help.
Torrontés And Shrimp Cocktail
Now we have a medium to full-bodied wine that comes with a host of different fruity flavors such as green apples, apricots, minerals, lemon, and peach, all of which bring out the more dynamic flavors of your shrimp cocktail sauce.
This is quite a strong wine, so you might not want to pair it with a milder shrimp cocktail sauce, as it will overwhelm some of the subtler flavors.
This is also a very natural sweetness, so you won't have to worry about the final taste being too chemical. However, this wine is very expensive, so be prepared to spend quite a bit if you are hosting a large gathering.
Champagne And Shrimp Cocktail
This is another great dry white wine that has a low alcohol content and zesty flavors that will enhance the natural saltiness of your shrimp and help temper some of the spicier elements of your sauce.
You should make sure that your champagne or sparkling wine comes from a reputable wholesaler, as the cheaper wines can often result in a bitter aftertaste, which will affect how your shrimp cocktail tastes.
Cava And Shrimp Cocktail
This is another wine that is bright and bouncy, great for drawing out the saltiness and lemony hints in your shrimp cocktail sauce.
Cava has a low alcohol content, which means that it won't burn your mouth when mixed with the horseradish and heat of your hot sauce.
This is another wine that you'll want to be sure comes from a quality source. A low-quality Cava will taste quite flat and tart and won't contrast well with any of the flavors in your shrimp cocktail sauce.
Conclusion
Hopefully, our guide to what wines to pair with shrimp cocktail has given you an idea of what flavors work best with the latter's salty and spicy nature.
You can get budget wines that will serve the purpose of rounding out the spicy notes in your shrimp cocktail, just make sure that you avoid cheap wines, as they have a chemical aftertaste, which will influence your shrimp cocktail negatively.
Frequently Asked Questions
How Best To Serve Shrimp Cocktail?
Shrimp in shrimp cocktail should often be served peeled, with each prawn being the size of one mouthful. This can be eaten with a specially adapted oyster fork, but if you don't have one, then a smaller fork or cocktail stick will suffice.
Should I Cook Shrimp?
Uncooked shrimp is generally considered very unsafe to eat. You'll want to heat it up in a little olive oil or butter for a few minutes. Make sure that the shrimp is warmed all the way through to the center using a temperature probe.
Why Doesn't Red Wine Work With Shrimp?
You can get some red wines that work with shrimp cocktail (Beaujolais, Barbera, Cretan Liatiko), but you'll generally want to avoid wines that contain excess tannins, as this will clash with the hot sauce in your cocktail.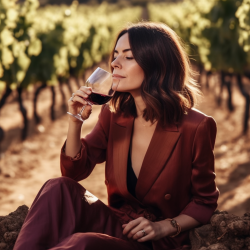 Latest posts by Sarah Perez
(see all)