Pinot Days Grand Festival expands beyond California and each year, exhibitors will travel to other destinations around the US to showcase their pinot noir collections to connoisseurs outside of San Francisco.
If you are planning on visiting the Pinot Days Grand Festival event in Chicago, then here is a list of some of the best exhibitors you can find showcasing their wines.
This way, you will know which tables to dash to first so you can avoid long queues or missing out on some samples entirely! 
However, there is something important to note: not every exhibitor can make it to the Chicago Pinot Days Grand Festival each year.
This is due to availability factors so there's no guarantee that the exhibitors mentioned in this list will be appearing this year.
Contact Pinot Days ahead to get a full list of exhibitors! 
One of the first stops for attendees at Pinot Days Grand Festivals across the US is the DeLoach Vineyards exhibit.
The winery grows their pinot noir grapes in the heart of Sonoma County, California.
This area is renowned for its fantastic pinot noir production across several wineries and vineyards – including DeLoach Vineyards.
They have had over 45 years to experiment and perfect their grapes to produce an incredible high-quality wine. 
And to top it all off – it's one of the most eco-friendly pinot noirs available at the event!
Not all of America's best pinot noir wines are produced in California.
Further up the west coast you can find vineyards of Siduri Wines in Willamette Valley, Oregon.
There, Siduri Wines has mastered producing cool-climate pinot noir that is fruity  and light.
You can also sample Siduri pinot noir that has been produced further down the west coast, in Santa Rita Hills in Santa Barbara County. 
By attending the Chicago Pinot Days Grand Festival, you can sample Siduri pinot noirs produced from different wineries to taste the difference between each vineyard.
Another great pinot noir from the Sonoma County of California is produced by Scherrer Winery.
They also make a variety of wines including chardonnay, syrah, and cabernet sauvignon, but it's their pinot noir that takes center stage at Pinot Days Grand Festival in Chicago. 
A lot of attendees love to try and visit this exhibition first so they can get a guaranteed tasting experience of Scherrer's legendary pinot noir!
One of the best areas in the US for producing pinot noir is Russian River Valley in California.
The grapes grown there are perfect for making an exquisite pinot noir wine – so what's the best winery in the Russian River Valley? 
Many connoisseurs have named the Gary Farrell Winery as the best winery in this important wine producing region – and so, they also produce the finest pinot noir in the US.
Pinot noir from this winery is highly sought after so you can't miss out on the chance to sample the legendary pinot noir from Gary Farrell's winery.
New Zealand Winegrowers, or New Zealand Wine as they have now rebranded themselves as, are a company dedicated to showcasing some of New Zealand's finest wines around the world.
They always make the effort to appear at Pinot Days' events around the country, allowing attendees to sample pinot noir grown and shipped from New Zealand. 
So, if you want to sample some of the best pinot noir grown outside of the US, you have to visit the New Zealand Winegrowers table.
One of the largest pinot noir producers in the US is J. Lohr.
This company has acres and acres of vineyards across areas in California including in Napa Valley, Paso Robles, and Monterey.
As a result, they create a ton of different wines, each one high in quality. 
You can sample their pinot noir collection in Chicago at the Pinot Days Grand Festival.
Even though they are based in California, J. Lohr are reliable attendees at each of Pinot Days' pinot noir events around the US.
Their exhibition tends to have a queue so you may want to go there first for your wine tasting samples. 
Final Thoughts
So, there are a ton of different pinot noir wine exhibitors to check out at Pinot Days Grand Festival in Chicago.
Wine makers, producers, vineyards and wineries have traveled for miles to showcase their finest pinot noirs in Chicago – but with over a hundred exhibitors appearing each year, it can be impossible to visit them all. 
We hope this list of exhibitors has helped you choose which tables to run to first once you visit the Chicago Pinot Days Grand Festival.
Make sure you get to sample the wines you are eager to try and enjoy the festival! 
Frequently Asked Questions
Why Is Pinot Noir Expensive? 
Out of all the wines in the world, pinot noir is one of the most expensive.

The reason why is because the grapes used to make pinot noir wines are so difficult to grow.

They require certain soils and weather conditions to truly thrive, and so it can be tricky for wineries to master growing these grapes. 

Because of this, pinot noir is more valuable and sought-after.

This drives up the price, making it expensive to taste lots of different varieties to find the right one for you.

This is why wine tasting events like the Pinot Days Grand Festival at Chicago are a great opportunity to taste lots of pinot noirs to find the best one for you. 
Where Is The Best American Pinot Noir From? 
California is one of the largest wine growing regions in the world, let alone in the US, and it's known for producing some incredible high quality pinot noirs.

Most connoisseurs agree that the Russian River Valley in Sonoma County, California, produces the best pinot noir wine in the US. 

This is because the fog caused by the river in this area causes the grapes to have a longer growing season.

This changes their acidity and structure compared to pinot noir grapes grown in other areas, making them more complex.

The result is a pinot noir wine unlike anything else produced in the US.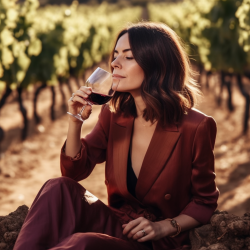 Latest posts by Sarah Perez
(see all)