The Pinot Days Grand Festival is an annual wine tasting event held in San Francisco and each year, over a hundred wineries, vineyards, winemakers, and wine producers attend the festival to showcase their finest bottles of pinot noir.
If you are interested in attending but want to learn more about the exhibitors of the festival, then this is the place for you.
Here, we are going to be diving deep into some of the exhibitors that attend the Pinot Days Grand Festival in San Francisco.
Just as a warning: exhibitor attendance may vary from year to year depending on availability.
So, there's no guarantee that every exhibitor on this will be present if you choose to attend this year's festival.
Please always check in advance with Pinot Days to see what wineries and wine producers are showcasing that year.
With that said, let's dive into the exhibitors list for Pinot Days' in San Francisco!
The first exhibitor on our list is Ancien Wines from Napa Valley, California.
This is not the biggest pinot noir producer in the world but from their small plots of land, Ancien Wines creates high quality pinot noirs that aim to rival those produced in Burgundy, France.
Each vineyard's plot was carefully selected due to its soil, distance from the sea and rivers, and more.
So, you can sample pinot noir produced all over California and Oregon in small, selected spots.
Each wine has a distinct taste, which makes this exhibitor one to visit during your time at the Pinot Days Grand Festival.
J. Lohr Vineyards and Wines are based in San Jose but have over 4,000 acres of vineyards spread across the Paso Robles area, Monterey, and Napa Valley.
Across these vineyards, they produce several rich, high quality red and white wines – including pinot noir.
The name Lohr is a big one in Californian wine so it's no surprise that the J. Lohr Vineyards & Wines company makes recurring appearances at this annual event.
Widely regarded as one of the best wineries in the Russian River Valley region of California, Gary Farrell Winery often exhibit their finest pinot noirs at the Pinot Days Grand Festival.
Pinot Noirs from the Russian River Valley are some of the most sought-after home grown pinot noirs.
The region allows the grapes to have a longer growing season so they are more complex and unique from pinot noirs from other Californian vineyards.
As a result, the Gary Farrell Winery is a popular exhibition at the Pinot Days Grand Festival – and one you won't want to miss!
Out of all the non-USA exhibitors at Pinot Days Grand Festival, the most consistent exhibitors to make an appearance year after year is New Zealand Winegrowers, or New Zealand Wine as they have recently rebranded themselves.
This organization helps showcase New Zealand grown wine in other countries.
You can find them at the Pinot Days Grand Festival, showcasing pinot noirs grown from a number of regions in New Zealand.
So, if you want to taste pinot noir from outside the USA, then you won't want to miss the New Zealand Winegrowers exhibition.
This winery produces their pinot noir from a single vineyard in Marin County.
This means that they put all of their time and effort into making the finest pinot noir possible, carefully planting and tending their grapes.
Pinot noir from this winery is known for its intensity and concentration, as the grapes are small to create an intense flavor.
Burning Bench Cellars also use traditional winemaking methods and techniques so each bottle is hand crafted with care and lone.
Domaine Serene Winery makes the journey each year to showcase their fine selection of pinot noir wines.
These bottles have come all the way from Oregon and are one of the best USA pinot noir exhibitions from outside California.
These wine producers are now one of the world's most established pinot noir producers.
This is because, like in the Russian River Valley area of California, they use fog to their advantage.
Their vineyards can be found at the hilltops of Dundee Hills, Oregon.
Through the hard work of company owners Grace and Ken Evenstad, they turned an unsightly hill into a flourishing vineyard that produces some of the best pinot noir in the world.
Because of this, there's often a long line at this exhibition!
Final Thoughts
So, those are just a few of the many exhibitors you can find at Pinot Days' Grand Festival in San Francisco.
Each year, more and more wineries and vineyards join the exhibitor list so always check beforehand who is going to be there at the event.
This way, you can avoid disappointment if the exhibitor you were most eager to visit is not appearing this year and learn which exhibitors you will want to visit first!
With so many exhibitors showcasing at Pinot Days Grand Festival, you will need to plan ahead to visit the ones you don't want to miss!
Frequently Asked Questions
What Is The Most Famous Wine Region For Pinot Noir? 
Some of the world's most sought-out after pinot noir bottles originate from the Burgundy region of France.

This region is otherwise known as 'Cote d'Or' or the 'Golden Slope'.

Here, you can find vineyards like Premier Cru and Grand Cru, both of which produce fine quality pinot noir wines that range in structure and complexity. 
Where In California Is The Best Pinot Noir? 
A lot of wineries and vineyards in California produce great quality pinot noir – but most connoisseurs agree that Russian River Valley is the best place in California for making pinot noir.  

This is because vineyards in this area take advantage of their proximity to the river that flows through the valley.

It often causes a fog that limits the sunshine hours per day in the area.

This causes the grapes to have a longer growing season which results in different acidities, aromatics, and structures.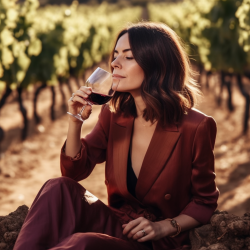 Latest posts by Sarah Perez
(see all)