New York City is one of the most culture-rich cities in the world. With a vibrant nightlife and diverse culinary scene which features everything from fine dining to street food, it's perfect for people who love food and drink.
Wine bars have long been a part of New York City culture, offering wine-lovers an opportunity to experience incredible wines from across the world in a metropolitan atmosphere.
In this article, we're going to take you through a list of the 10 best wine bars in New York City, outlining some of the most impressive establishments we could find.
We'll go into depth with each of them and tell you a little about the kinds of wine they serve.#
Pinot Days In New York City
From 2008 until 2016, Chicago celebrated Pinot Day. The day of this event would differ from year to year, from April to November. While the official International Pinot Day is in August.
Often on a Saturday, there would be a grand tasting where consumers could sample around 150 Pinots from every Pinot region. Producers are there to showcase their Pinot, whom you could speak with and ask them everything there was to know about their Pinot Noir.
Since 2016, this event has not been run for various reasons in the state. However, there are still many wine bars, which offer delicious and a variety of Pinot Noir for you to try
The 11 Top Wine Bars In New York City
Address: 1614 3rd Ave, New York, NY 10128, United States
First on our list, we have Kaia Wine Bar, which is an incredible place to go for a diverse New World wine list, with an emphasis on South African Wines. Located in the heart of the city, you'll find something to love about this bustling wine bar.
They also include an impressive food menu, with farm-to-table small plates to snack on whilst enjoying an incredible glass of wine. This one is a real hidden gem, and something you should definitely check out if you're in Manhattan. 
Address: 42 Rivington St, New York, NY 10002, United States
Next up we have a wine bar that is cozy as it is lavish. If you're looking for a perfect night for an intimate date, this is the place for you! They offer a terrific list of different wines, as well as a great selection of French nibbles for you to choose from.
They also offer gluten free bread and other options that you might not commonly find elsewhere. Check this one out if you want a place with great ambiance! 
Address: 75 9th Ave, New York, NY 10011, United States
Corkbuzz, located in the heart of Chelsea, is a favorite among wine enthusiasts. They have an impressive selection of wines by the glass and bottle, as well as a knowledgeable staff to help you make your selection.
The warm and inviting atmosphere makes it ideal for a romantic evening.
Address: 247 Broome St, New York, NY 10002, United States
The Ten Bells, located on the Lower East Side, has an extensive natural and biodynamic wine list. The cozy and rustic atmosphere, combined with delectable small plates, creates an ideal setting for wine enthusiasts looking to discover new and unique flavors.
Address: 175 2nd Ave, New York, NY 10003, United States
Bar Veloce, located in the East Village, provides a sleek and stylish atmosphere. This bar is well-known for its Italian wine selection, but it also serves delectable paninis and bruschettas, making it a popular destination for both wine and food enthusiasts.
There are also different Bar Volce locations spread across the city, so you can check those out also. 
Address: 34 8th Ave, New York, NY 10014, United States
Anfora, located in the West Village, has a laid-back atmosphere with dim lighting and cozy seating. Their wine list includes a variety of unique options, as well as an excellent selection of cheese and charcuterie boards, ideal for indulging in the finer things.
Address: 24 Harrison St, New York, NY 10013, United States
Terroir Tribeca welcomes wine lovers with its rustic decor and friendly staff. Their extensive wine list features a wide range of options from around the world, while their small plates menu perfectly complements the wines.
If you want a place that has more options than many of the other wine bars on our list, this will offer you a great sense of versatility, no matter what you're looking for! 
Address: 249 Centre St, New York, NY 10013, United States
Compagnie des Vins Surnaturels, located in the heart of SoHo, provides an elegant and intimate setting for wine enthusiasts. This bar is a haven for those looking for unique and lesser-known wines, with an extensive wine selection from small producers.
Address: 151 W 51st St, New York, NY 10019, United States
This Midtown bar, designed by renowned sommelier Aldo Sohm, provides an exceptional wine experience. Its modern design and expertly curated wine list make it popular with both professionals and wine enthusiasts.
Address: 1 W 67th St, New York, NY 10023, United States
The Leopard at Des Artistes, located on the Upper West Side, combines fine Italian cuisine with an impressive wine list. The sophisticated atmosphere is created by the elegant decor and knowledgeable staff, making for a memorable evening of wine and dining.
Address: 510 W 52nd St, New York, NY 10019, United States
If you're looking for a great little wine bar in the heart of the city, you'll find it at Ardesia Wine Bar. This is an incredible place if you're looking for great outdoor seating, and a great menu of wine, classic NY pretzels, and an impressive selection of artisanal cheeses.
We can't overstate how great the outdoor seating is at this place, making it a great place to enjoy a glass of wine on a warm summer evening. 
Final Thoughts
To conclude our list, New York City offers a long list of wine bars, each one with its own unique charm and impressive selection of wines for you to try.
If you're a wine-lover, then going to any of these bars in New York City will give you an unforgettable experience you'll remember for years to come. 
We hope that this article has taught you everything you wanted to know, and you now have some new locations to choose from.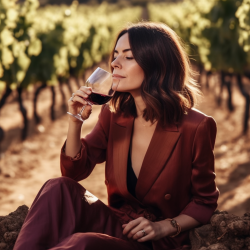 Latest posts by Sarah Perez
(see all)