If you are interested in wine, you will know that Italian wines are the most popular type of wine in the world. However, that is an incredibly broad statement.
As there are many different types of wine that are produced across many different regions of the country.
There are 695 unique varieties of grapes that are used to produce the many beautiful wines that come from Italy. 
Because there are so many different wines available, all of which have varying qualities, it can be difficult to know what type of wine you are buying and which type of wine you should be looking for depending on the occasion that you are hosting.
In this guide, we will look at how to correctly read an Italian wine label, the different wine regions of Italy, and the different quality levels of Italian wines. 
How To Read An Italian Wine Label
European wine labels are more complicated to read than American wine labels. Italian wine labels in particular can be incredibly difficult to read.
Thankfully, there are some key terms and acronyms that can help you to gain a better understanding of the types and quality of wine that you are purchasing.
Below are some of the main terms that you should know to help you make the right purchase for your dinner or event. 
DOCG
This is an acronym for the phrase Denominazione di Origine Controllata e Garantita. This is the top classification of all Italian wines. There are strict rules in place that govern the production of this class of wine from growing the grapes to fermentation processes.
The rules that are imposed on this class of wine determine the type of grapes that can be used, where they can be grown, and how the wines can be aged. There are 74 DOCG classified wine regions in Italy. 
DOC
This is an acronym for Denominazione di Origine Controllata. This is the classification that is one tier below the DOCG classification. This class also has rules that govern the production of wines within the category.
However, they are not as strict as they are for the DOCG category. There are 334 DOC classified wine regions in Italy. This is not as exclusive as the DOCG category but the wines are still high quality. 
IGT
This is an acronym for the phrase Indicazione Geografica Tipica. This is a classification of wine that was introduced in 1992.
This class was created to allow winemakers to use grape varieties and craft methods that are not allowed under the DOCG and DOC classifications. Within this category, there are around 118 winemakers. 
Riserva
This is a smaller classification of Italian wine that has much looser rules surrounding its production. The wines in this category are aged for significantly longer than wines from other categories.
There are no hard and fast rules for this type of wine. Each denomination has its own set of rules. 
Superiore
This classification of wine denotes the highest quality of Italian wine. You are most likely to find this classification added to the end of the regional name of the wine. An example of this could be Piedmont Superiore.
Classico
This is a classification of wine that refers to a zone within a specific region of the country that is considered to be the original area of production.
This classification follows a similar form to the superiore wine classification. The word classico would follow the region that the wine is from. An example of this could be Chianti Classico.
Azienda Agricola
If you see this phrase on an Italian wine label, it means that the wine has been produced by a farm or estate that produces its own grapes in order to produce its wine. 
Annata Or Vendemmia
These terms refer to a wine that has been made from a specific vintage or harvest. This is likely to only be found in specialty wine shops. 
Produttore
This term simply means producer. This will be used when talking about the company or estate that produces the wine.
Tenuta
This term means estate. This is likely to be used when stating the estate that the wine or grapes were produced from. 
Vigneto
This term means vineyard. This will be used when stating the vineyards that were used in the production of the wine. 
Italian Wine Regions
Now that you know what the different acronyms and phrases mean on Italian wine labels, it is important to understand what the different wine regions are and the types of wine that they produce.
Because wine production is such a huge and profitable industry in Italy, there are many regions of the country that produce different types of wine.
Below, we will look at some of the wine regions that you may come across when purchasing Italian wine. 
Piedmont
In the Northwest area of Italy is the Piedmont region. This region sits at the bottom of the Western Alps. The cold air that comes off the mountains influences the climate of the area.
However, due to the location of the region, it is also influenced by warm Mediterranean air. This combination provides the perfect conditions for growing Nebbiolo black grapes.
This variety of grape is known for making the most famous wines of the region. These wines include Barbaresco DOCG and Barolo DOCG. Barbera and Dolcetto red grapes are also grown in the region. Wines made with these grapes are more accessible financially and have higher drinkability.
White wines that are produced in the Piedmont region are much less common. However, Cortese grapes are the only variety used to make Gavi DOCG and Arneis grapes are used to make Roero DOCG. The popular Moscato d'Asti wine is made in the Asti DOCG in this region.
Liguria
The Liguria region is located in the Mediterranean, between France and Tuscany. It is a small coastal region that primarily produces white wines.
If you consider yourself to be a wine connoisseur, you may be familiar with the dry white wines that are produced in this region. The dry wines made from Pigato and Vermentino grapes make up the bulk of Italian wine exports to the U.S. 
The Liguria region also produces a key red wine known as Rossese. This wine comes from the Dolceacqua DOC. It is a fruity and fragrant region that is also fairly popular in the U.S.
Lombardy
If you are into sparkling wine, you will probably be familiar with the Lombardy region of Italy. Located in the North-Central region, it boasts some of the most beautiful lakes in the country. It also boasts some of the best sparkling wine in the country.
The most popular wine from this region is Franciacorta DOCG. It is produced along Lake Iseo using one of the best traditional methods.
The grapes that are used in this region include Chardonnay, Pinot Nero, and Pinot Bianco. Red wines are also made in this region using Nebbiolo grapes. These wines include Valtellina Rosso DOC, Valtellina Superiore DOCG, and Sforzato di Valtellina DOCG.
Veneto
If you have ever bought wine for a special occasion, you will likely have considered wine from the Veneto region. The unique location of this region provides it with multiple microclimates to facilitate a wide variety of grapes and styles.
The wines that Veneto is most well known for include Pinot Grigio which is produced in vast quantities, and Prosecco which is in high demand. There are some wonderful prosecco wines that come from the Conegliano Valdobbiadene DOCG and Cartizze DOCG regions.
There are also beautiful red wines in the Valpolicella DOC and Amarone della Valpolicella DOCG that are made with the Corvina black grape. 
This region also makes beautiful white and rose wines that belong to the DOC category.
Friuli-Venezia Giulia
If you enjoy white Italian wine, you are likely to have come across Friuli-Venezia Giulia. This region is located in the far Northeast and borders Slovenia and Austria. Its location provides a unique climate that is perfect for growing white and red grapes.
More than 75% of the production in this region focuses on white wine. Wines produced here include Sauvignon Blanc, Pinot Grigio, Ribolla Gialla, and Friulano.
There are also some beautiful red wines made in Friuli-Venezia Giulia, including Schioppettino, Merlot, and Refosco. The red wines made in this region are beautiful but less well-known. 
Tuscany
Wines produced in Tuscany are some of the most interesting wines in the country. Many of the wines that are produced in this region are labeled as Toscana IGT.
This is because they don't conform to traditional production rules. This means that wineries have free reign to use their preferred production methods to create the most beautiful wines.
There are also some higher-quality wines that are produced from this region. Some of the most famous red wines from Tuscany include  Chianti, Chianti Classico, Vino Nobile di Montepulciano, and Brunello di Montalcino DOCG wines.
The most famous white wine from this region is Vernaccia di San Gimignano DOCG.
Abruzzo
The Abruzzo region is similar to the Tuscany region and specializes in wine made from the Montepulciano grape. Montepulciano d'Abruzzo DOC is the denomination of beautiful red wines that are made from this particular grape.
There are also white and rose wines that are made within the region. These are known as Cerasuolo d'Abruzzo DOC for rose wines and Trebbiano d'Abruzzo DOC for white wines. 
The wines that are produced in this region use ancient winemaking traditions which give the wines a richer and more unique flavor when compared to more modern production techniques.
Campania
The Campania wine region encompasses Naples and the Amalfi coast. Wines that are produced in this region are becoming increasingly popular in the U.S. and you are more likely to come across these wines in liquor stores.
There are two types of red wines from the Campania region that are particularly popular. The Taurasi DOCG and Aglianico del Taburno DOCG are both made with the Aglianico red grape and belong to the top tier of Italian wines.
The popular white wines from this region are Fiano di Avellino DOCG and Greco di Tufo DOCG. These wines are made from the Fiano and Greco white grapes. They are also part of the top tier of Italian wines. 
Sicily
Sicily is the largest island in the Mediterranean. The climate is dry and warm with plenty of sunshine which provides the perfect conditions for wine production. Within this region, there are multiple types of grapes that are used to produce wine.
Nero d'Avola produces medium-bodied, fruity red wines. Grillo grapes produce peachy, juicy white wines. These two types of wines are the most popular wines from the Sicilia DOC classification. 
Nerello Mascalese red grapes and Carricante white grapes produce wines that belong to the Etna DOC. Nero d'Avola grapes are blended with Grappato grapes to produce Cerasuolo di Vittoria DOCG wines. Marsala fortified wine is produced in the west of this region.
Sardinia
When you are looking for Italian wines in the U.S. you are more and more likely to come across wines from the Sardinia region.
Another island in the Mediterranean, Sardinia is more known for cheese and beaches than wine. However, more producers of wine in this region now export to the U.S. than ever before.
The best wines from Sardinia that you should look for in the U.S. are Cannonau and Carignano. You can also get a beautiful Vermentino wine with floral and salty aromas from this region.
Final Thoughts
There are so many amazing wines that are produced all over Italy. Different regions offer different wines, different classifications, and different production methods.
The abbreviations that you see on Italian wine labels denote the quality of the wine. Using the guide and information in this article, you can purchase the perfect Italian wine for your event or occasion with confidence.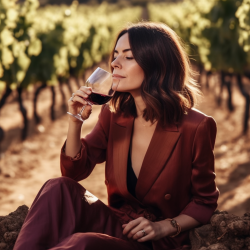 Latest posts by Sarah Perez
(see all)