For those of you who have already had the pleasure of trying halibut before, you'll know that it's one of the tastiest fish varieties around. It's known for having an incredibly mild flavor that tastes somewhat sweet and earthy.
It has a firm, white flesh, that's rather dense in terms of texture, and is really a pleasure to bite into. In terms of seasonings, halibut works really well with bold seasonings, such as pesto, or you can opt to use some simple basil and lemon juice.
Make sure to oil it properly before cooking, and also take care not to leave it in the oven for too long, as it can become dry. 
If you're a great wine lover, then chances are you're wondering about some of the best varieties to combine with this tasty fish. When it comes to wine pairings, it can be difficult to know where to get started, save for the color of the wine.
Thankfully, that's where we come in. Below, we've compiled this handy guide, that will take you through some of the very best halibut wine pairings. 
To find out more, simply keep reading below, as we take a closer look.
1. Chardonnay 
In terms of white wine, the first variety that we'd recommend is chardonnay. Chardonnay works really well with both pan fried and grilled halibut. It's one of the most flexible wines you can get, and it has a super smooth, almost buttery texture.
If you've got an unoaked bottle of chardonnay, then we'd recommend that you pair this wine with either breaded or pan fried halibut. This is because unoaked chardonnay has an incredibly bright, honey-like flavor that works well with the saltiness displayed by a pan fried halibut.
If your chardonnay is oaked, however, then we'd recommend pairing this with halibut that has been grilled over coals. This will compliment the earthy flavors of vanilla displayed by the oaked chardonnay.
2. Pinot Grigio 
The next pairing that we'd like to recommend is halibut and pinot grigio. Pinot grigio is renowned for its rich, peach-like flavors that have plenty of lemon and apple zest too.
The pinot is light enough so that it won't mask any of the natural flavors of the halibut, but it can help to bring some life and zest to the dish. 
Because of this, we'd recommend cooking your halibut in the most delicate way possible, by simply poaching it. In terms of side dishes, we'd recommend adding some fresh salads, grilled zucchinis or roasted asparagus.
3. Chablis 
The next suggestion we'd like to make is to introduce a glass of chablis to your next meat. This wine works particularly well with halibut, due to floral, citrusy notes that make the entire dish taste incredibly fresh.
In terms of how to cook your halibut to enjoy with a glass of chablis, we'd recommend that you don't overseason the fish, as it can remove some of the fresher notes in the wine. 
Again, in order to appreciate the full flavor profile of the wine, simply poaching your halibut in a little bit of butter will taste absolutely delicious. If you decide to pan fry it, make sure not to over salt the fish.
4. Pinot Noir 
Some of you might be surprised to find pinot noir on our list of halibut pairings, considering, after all, that it is a red wine. But the statement that red wine can't work well with fish dishes is actually completely false, presuming that you find the right bottle.
If you're looking for a red wine that will really work well as a pairing with halibut, then we'd recommend choosing a good bottle of pinot noir. It tastes bright enough so that it won't overpower the delicate flavors displayed by the fish (You might also want to check out Cioppino Wine Pairing).
If you're looking for side dishes to include with your meal, we'd recommend hearty, root based vegetables, such as butternut squash, and potatoes. 
If you want to give your fish a delicious, woody aftertaste, then we'd recommend that you choose an unoaked variety of pinot noir.
If you want to take things to the next level, then you might even consider cooking your halibut as a tomato stew. Rich, tomato based stews work really well with the bold flavors displayed by pinot noir. The meatiness of the fish also gives the stew an amazing texture.
Final Thoughts
To sum up, halibut works well with a variety of different wines. You will need to pay attention, and alter the way you cook your halibut based on the variety of wine you've selected.
We hope that you found this article helpful today, and that it's provided you with the inspiration
You need it.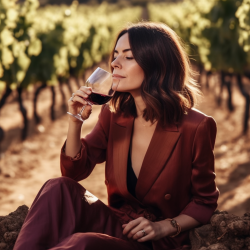 Latest posts by Sarah Perez
(see all)