Have you heard people talking about Chenin Blanc and want to know more about it? Maybe you have been asked to serve it at a dinner party and aren't sure what to pair it with?
Or are you curious about Chenin Blanc and want to know more? No matter the reason that brought you here today, we have the answers for you!
Finding out more about Chenin Blanc can be tricky, especially if it's not a wine you have heard of before. You head online to find out more but are met with page after page of conflicting and confusing information.
Frustrated and disappointed, you are left unsure who to trust or where to turn. How will you find out what you need to know about Chenin Blanc now?
Well, you can turn to us! Keep reading to find out everything you need to know about Chenin Blanc in our complete guide today.
Just sit back and get ready to become an expert on everything from its smell and taste to what to pair the wine with. 
How Do You Pronounce Chenin Blanc?
Let's dive straight into today's article and start by answering an easy question! Chenin Blanc is pronounced Sh-uh-Nehn Blahn.
What Is Chenin Blanc?
Chenin Blanc is a white wine produced from the Chenin grape. The wine can either be sweet, dry, white, or sparkling and will be either acidic, full of fruit, or both.
It has become increasingly popular in recent years with the New World producers who are looking for new locations to grow Chenin and are becoming creative with the fermenting process and the taste of the wine.
Although Chenin Blanc was previously grown in one area, you can now find the grapes growing in all corners of the earth! 
Where Does Chenin Blanc Come From?
Chenin Blanc originates in the Loire Valley in central France. This is the best place to get your wine from as it is where the grape variety grows. The grape is versatile, producing dry, sweet, and fruity wines! 
When you look at labels these days, you might not see Chenin Blanc on the label. But names like Anjou, Bonnezaux, Coteaux du Layon, Montlouis, Quarts de Chaume, Savennieres, or Vouvray are all Chenin Blanc!
What Does Chenin Blanc Smell Like?
Chenin Blanc has an aromatic grape variety when it is produced well. You can expect it to develop aromas of pear, pineapple, peach, quince, mango, and citrus fruit!
Sweet versions of the wine might have aromas of nuts, white flowers, and honey.
What Does Chenin Blanc Taste Like?
Chenin Blanc has a mixture of zingyness and sweetness. The acidity and roundness on the palate make it a super versatile wine, where it can be made as a sweet, dry, off-dry, or sparkling wine.
Wines with Chenin Blanc on the label tend to be dry with a good sweetness and high acidity.
What Pairs Well With Chenin Blanc?
What Chenin Blanc pairs well with depends on the type that you have! Let's take a look at the types there are now and what pairs well with them.
Dry Chenin Blanc
Dry Chenin Blanc is great with goat's cheese! It also works well with poultry like guinea fowl and chicken. You can also serve veal or grilled pork chops with dry Chenin Blanc.
Sweet Chenin Blanc
Sweet Chenin Blanc pairs well with creamy fish or poultry dishes. It also works well with any cow milk cheese.
What Are The Best Regions For Chenin Blanc?
Chenin Blanc is a tricky grape variety to grow. It needs the perfect temperature as it will grow acidic wines if the weather is too cold and an average plonk in warmer climates.
The Loire Valley is the best region for producing Chenin Blanc. The climate is right and we are yet to sample bad wine from there!
South Africa is another good region thanks to the climate, producing some delightful Chenin Blanc.
New Zealand also offers good Chenin Blancs from their vineyards.
What Tastes Similar To Chenin Blanc?
If you can't get your hands on Chenin Blanc. You can try Sauvignon Blanc (You might also want to check out How Many Calories In Sauvignon Blanc?). It is also a Loire Valley grape and is a great alternative to Chenin Blanc.
Sauvignon Blanc tends to be a cheaper option too and is widely available in most stores, wineries, and bars. 
If you like a dry Chenin Blanc and Sauvignon Blanc is the best alternative, especially if you pick one from New Zealand!
You can also try a Pinot Gris from New Zealand. This will be slightly weighter, but it is a good alternative with a similar taste to Chenin Blanc.
What Are The Best Chenin Blanc Wines?
Let's take a look at the best Chenin Blanc wines that you can get your hands on! We have broken the lists down to dry and sweet wines to help you find your new Chenin Blanc with ease.
Dry Chenin Blanc
Leliefontein Quartz Chenin (from Mullineux in Swartland)
Jumeaux, Montlouis, Vincent Careme – a beautiful mineral Chenin Blanc with vibrant flavor
Le di Chenin, Domaine de la Truffiere Anjou – a great-priced Chenin with a divine taste!
Dry Chenin Blanc
De Trafford's Vin de Paille – a straw wine made from 100% Chenin. It is a weird and wonderful wine you need to try!
Château de Fesles Bonnezeaux – an unbelievable taste
Vouvray Moelleux Le Haut Lieu – from Huet and an iconic wine that you need to try
Final Thoughts
And there you have it, everything you need to know about Chenin Blanc! Whether you are new to this wine or needed a little refresher, we hope you found all the answers that you needed today.
Don't forget to make use of the list we gave you to help you find a Chenin Blanc that is perfect for you and your dinner party. And if you are ever unable to track it, remember that a Sauvignon Blanc from New Zealand will do just the trick!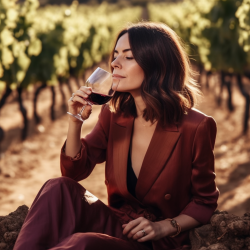 Latest posts by Sarah Perez
(see all)