When it comes to the best wine pairings to go with shrimp scampi, some of the best options include citrusy whites. This could be a Verdejo, a Muscadet, a Sauvginon Blanc, or a Fiano.
You could also go for a Pinot Grigio, a Manzanilla Sherry, or a Sparkling Wine, and these all have their own strengths and drawbacks which make them a good choice to go with shrimp scampi.
This is because the stronger citrusy notes of these white wines in particular will do a good job with softening the more pungent garlic flavors you get from shrimp scampi.
You also get a great crisp acidity from the dryer white wines and this is great for washing away the olive oil and buttery flavors you get when eating shrimp scampi.
So, if you are serving shrimp scampi soon, but you do not know what wine will be best to serve with it, this guide will give you all the information you need!
Our Favorite Shrimp Scampi Wine Pairings
Unlike other proteins, there is not too much variety when it comes to shrimp scampi and it tends to usually be served in a similar way.
This means that most of our recommendations should work with most shrimp scampi dishes. However, just like any other meat and wine pairing, you still want to consider the side dishes and any sauces when choosing the best wine.
For example, some shrimp scampi dishes are served with a tomato based sauce, and since these tend to be more acidic and flavorful, you might want a slightly deeper wine to help contrast this.
Sauvignon Blanc & Shrimp Scampi
For one of the top choices when it comes to pairing shrimp scampi with a wine, we have to mention Sauvignon Blanc.
This is a crisp white wine and it usually tends to have a green and grassy herbal edge which is perfect for going with the green flavors you get from the garlic used in shrimp scampi.
When enjoying a Sauvignon Blanc you should also notice some steely notes of lemon, as well as lime, mineral, and grapefruit, all of which are perfect for refreshing against the more garlicy oil you will get with a shrimp scampi.
These elements of this wine will also do well to accentuate the sweeter and more subtle mineral flavors you get from the shrimp scampi.
You want to keep in mind that the shrimp scampi is usually the focal point of the meal, so you want to ensure that you can taste its delicious flavors and not overpower them with your wine choice. 
We have mentioned it briefly, but it is important to keep in mind that the acidity of the wine choice is incredibly important because it will wash the buttery garlic flavor of the shrimp scampi away in between bites, stopping it from becoming overwhelming and helping keep the meal tasting fresh.
If you do not have this acidity, then the meal would only taste amazing for the first few bites, and then after this the taste would start to eventually get more and more homogeneous.
This makes the shrimp scampi start to taste a little more bland since your taste buds will eventually get swamped with carbohydrates and fat.
This is why Sauvignon Blanc is such a good choice since you will be washing these carbohydrates and fats away after every sip ensuring that your shrimp scampi always tastes amazing!
Verdejo & Shrimp Scampi
If you have never tried Verdejo before, this is a Spanish white wine and it is produced in the Rueda region of Spain.
With a Verdejo you will get some delicious lemon, nectarine, apricot, and grapefruit flavors while also having some complementary bitter notes including, anise, fennel, and grass, and if it has been aged, then also some almond notes as well.
We love the brighter citrusy flavors you get from a Verdejo as these are the perfect choice for offsetting the more dense garlic taste you get with shrimp scampi. And this is why they work so well together.
As you probably know, when there is citrus, you will have acidity, and this acidity is what you need to keep your mouth feeling as refreshed as possible while also being able to accentuate the more sweet and delicate flavors of the shrimp scampi.
Then there are the aforementioned grassy and fennel herb notes which you find in a Verdejo and these complement the more pungent and green garlic flavors you get with a shrimp scampi.
This wine is not just juicy and clean, but it is also pretty inexpensive as well, so if you love Sauvignon Blanc but want to try something different, then try this!
Prosecco & Shrimp Scampi
For another great white wine to go with shrimp scampi we have Prosecco. This is a well known sparkling wine which has some lighter flavors including apple, citrus, pear, custard, and almonds.
But it also has a pretty sharp acidity, which as mentioned is perfect for removing any garlic or butter which can easily clog your taste.
This is perfect for keeping the shrimp scampi feeling fresh after it might start to feel more homogenous.
As mentioned, Prosecco has a lighter flavor, but because of how bubbly it is, these bubbles are perfect for carrying away any of the garlicy fats or oils which you get with a shrimp scampi.
This means that you are still able to appreciate the more subtle flavors of both the wine and the shrimp scampi!
Summary
Hopefully this guide has given you all the information you need about some of our favorite pairings you can put with shrimp scampi.
One thing you want to keep in mind when pairing wine with shrimp scampi is that shrimp scampi is often prepared to be buttery and to have a strong garlic taste, because of this you want a white wine with a higher acidity. 
This means it will keep your taste buds clean and will keep the shrimp scampi tasting fresh!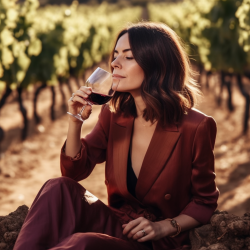 Latest posts by Sarah Perez
(see all)