Graciano is one of the most fascinating red wines in the world.
It has a long and extensive history, and even at one point – it looked as though this wine was going to be a thing of the past, because the red grape variety nearly went extinct!
Luckily, this did not happen and we still have access to this very unique and high quality red grape. The grapes have tough skins, modest yields and they ripen usually much later than other grapes.
In this guide, we're going to explore this spectacular wine. We'll look at what it is, its history and a whole lot more. Join us in our ultimate guide to graciano!
What Is Graciano?
Before we move on any further, it's a good idea that we explain exactly what graciano is.
Graciano is otherwise known as Tinta Miuda and it is a red grape variety which is primarily found in areas of Spain and Sardinia. In fact, in Sardinia – the wine is called Cagnulari.
You can also find these grapes growing in areas of Italy, France and Portugal – so it's a fairly well grown grape. They ripen later than other grape varieties and typically produce dark red and tannin rich red wines.
These wines have a very long shelf life and are considered to be among the highest possible quality. However, due to such a low number of the Graciano variety yields of a vine – the number is in somewhat of a decline.
As a result, Graciano is usually blended with Tempranillo which makes it a very potent wine, reaching about 13% alcohol percentage. Indeed, with its strong aromas and dark color, it is one of the most unique and sought after wines today.
Graciano, Grenache And Mourvedre
These three grape varieties are often spoken about in the same breath and sometimes they are confused for one another.
However, it's important that we understand the differences between all of them and know about their unique characteristics.
Grenache is a red grape variety that you can find all over the world and as such, it occupies numerous vineyards across the globe, although it is most common in France and Spain.
Generally, Grenache is described as being fresh and fruity – but its attraction goes beyond that. It is because it is so multi-layered and, depending on how it was stored, can have a completely different taste.
If it has only spent time in stainless steel for example, the taste will be much fruitier, fresher and clearer. Conversely, if it has spent time in wooden barrels, the taste becomes much more mature, rich and smoky.
Mourvedre on the other hand are grapes that are small with thick skins, and while they are very sweet, they produce very strong and dark wines, often described as tasting very much like alcoholic blackberries.
These grapes ripen late and they require warm climates in order to properly mature so they can be harvested for use in wine.
Characteristics Of Graciano
The Graciano grape variety is local to the Rioja wine growing region, and among the Ebro Valley grape varieties, it's considered to be one of the most important.
The wine the grapes produce is somewhat spicy with plenty of acidity and a lush body.
It is full bodied with a high volume and it contains an especially rich taste which follows with an incredibly aromatic and intense finish on the palate. You will notice notes of minerals and fruits with their complex aromas.
Some people describe flavors of toast, coffee (Also check out Does Red Wine Have Caffeine In It?), chocolate, pencil lead, licorice and even cinnamon. However, due to their shelf life, it's important that Graciano is consumed early in its life.
For a blending partner with Rioja wines, Graciano berry provides the red wine with a lot more structure and fragrance.
Taste Profile Of Graciano
This gorgeous wine is a beautiful ruby color that, throughout aging, turns into somewhat of a copper color. The fermentation process is conducted in a wooden barrel which adds to more flavors and complexity of the wine.
Indeed, due to its process, vanilla, coconut, leather and toast flavors become present. It has a velvety note on the palate and the tannins soften the longer the wine is stored for.
The wine is strong and fruity with moderate tannins and contains a solid acid structure.
You can tell when you have a good Graciano when it matures into strong aromas of plum, cherry, tobacco, leather, dried fruits, spices and chocolate.
The Regions Of Graciano
Graciano is one such variety of the Rioja grape region, within Navarra and Castilla de la Mancha. Across the world, it is known by many different names and generally it is used for blending.
For example, in California it is known as Xeres, in Portugal it is known as Tinta Miuda and in France it is known as Morrastel.
It's now a good idea for us to examine some of the regions of Graciano in a little more detail below.
Rioja Region, Spain
Graciano grapes are grown in autonomous communities, throughout the Basque provinces of Alava, La Rioja and Navarre.
In fact, this region of Spain is known as denominación de Origen Calificada – which is essentially the highest possible rank for Spanish wine regulations.
Jerez-Xérès-Sherry DOP, Spain
Located on the south coast of Spain, you will find this area in the ancient port city of Cadiz. In terms of volume, this is one of the top ten Spanish wine producers. This is helped by a huge variety of soils which form their rolling hills.
Ribatejo Provinces, Portugal
Despite having the same agricultural land as Spain for growing and cultivating, this area belongs to the Santarem District and is one of the most central provinces in Portugal – which means it does not share a border with Spain or Spanish lands.
Nonetheless, it can provide some of the most amazing grapes and they are integral to the production of Graciano.
Oeste, Portugal
Oeste is an administrative division of the country and it's located on Portugal's western/central coast, which is situated between the Atlantic Ocean and the Montejunto mountains.
Due to its fantastic geography, it is one of the biggest producers of fruit in the entire country, so of course, its landscape is largely made up of fields filled with vines and plenty of fruit trees.
The fruit thrives in this region due to the dichotomy of the mountains and the sea, along with how well the locals care for them.
Blends Of Graciano
Graciano is primarily used to make blends as it is very rarely made pure. As a result, there are plenty of different Graciano blends on the market today. Let's take a look at some of the most popular ones you can find.
Cinque
Cinque is made using five different varieties of grape; Tinta Cão, Sousão, Touriga Nacional, Graciano, and Tempranillo.
All of these varieties merge together and form a highly expressive and interesting blend with earthy notes and intriguing spices.
You find that the palate is excellently balanced with dark, juicy and somewhat suede-like tannins that are quite difficult to replicate with other wines.
Roda Reserva
Roda Reserva is a much more modern style of Rioja which uses 97% Tempranillo and 3% Graciano. As a result of this ratio, it can be aged longer in the bottle which results in a highly oaky flavor with mineral acidity.
Its core uses black and red fruits and makes for a complex and brilliantly textured wine, which means you need to hold it for some time prior to drinking it.
Contina Reserva
This wine is very interesting. It can be described as being low-key but it uses a blend of Graciano, Tempranillo, Mazuelo and Garnacha. It is then further refined by its oaky flavors and plummy tannins.
'Costalarbol' Graciano Blend
This is the highest proportion blend of Graciano. It uses 60% Graciano, 20% Garnacha and 20% Tempranillo. Using a mild temperature, it is fermented using a massive concrete container.
This makes it become composed, sleek and quite compelling with aromas like blueberry. It has a clear structure with fine tannin which allows the acidity to be persistent.
La Rioja Alta Viña Arana Gran Reserva
Unlike the previous wine, this one only uses a very small amount of Graciano. It contains just 6%, but this gives the wine some added backbone and a kick of cinnamon and oak.
However, this is likely due to its storage in an American oak barrel.
It has notes of coconut with a core of red berry and subtle hints of tobacco – all of which provide for a highly sophisticated and gorgeous tasting wine.
Enjoying Graciano
Anytime somebody asks how you should enjoy wine, the trick is to master three main things. The first is the food pairing, the second is achieving the optimal temperature and finally you need to know the right stemware.
It's important to know that not every wine goes well with the same settings and its taste can significantly change depending on your food choices. So, let's explore the best ways you can enjoy Graciano.
Food Pairing
Due to its complexity, there are numerous foods that you can pair Graciano with. Typically, you should be looking at meat dishes such as spiced lamb, grilled chorizo and brisket. However, there are some non-meat dishes that Graciano pairs well with too.
These include things like blue cheese and blackened cajun catfish. Let's take a look at some of these a little further.
Grilled Chorizo
This spicy, calorie dense food can go excellently well with Graciano, as the wine is refreshing against the fats and the salts of the meat. The higher the wine's acidity, the more potent the spices become.
Blackened Cajun Catfish
Much like chorizo, Graciano can help take some of the sting out of the fats and salts of catfish, but it also helps to complement the overall flavor.
Optimal Temperature
The overall taste of wine will largely depend on its temperature. For example, leaving white wine in the sun for an hour will yield an unpleasant taste.
However, red wine does not do well in the refrigerator – as it comes out as tasteless or a flavored water.
Typically, when the temperature is lower, the taste becomes restricted. However, if the temperature is too high, the elegance of the wine is subdued too.
Therefore, the optimal temperature of Graciano is between 16 and 18 degrees.
Stemware
Understanding and then using the right stemware is critical to your wine enjoyment process. There are three ideal choices that you may look at which we have got below.
Stölzleglasses Quatrophil
With its ideal balance of high quality and budget friendliness, these glasses are absolutely spectacular. They have no connective seams and they are handcrafted to perfection.
They have a distinctive contour on the goblet which gives them a modern look but also a fine figure.
Zalto Denk'art Glasses
These are highly elegant and handcrafted glasses which are tailored for wine enthusiasts and connoisseurs alike. There are a lot of varieties of these glasses which are all for different wines!
Eisch Unity Sensis Plus Glasses
These glasses are possibly the best quality and especially noble. They have a high quality design and an elegant appearance.
The Bottom Line
And that's everything you need to know about Graciano! We hope you have enjoyed this guide and you've found everything you were looking for.
Frequently Asked Questions
We will now cover some of your most frequently asked questions.
How Is Graciano Made?
Much like other wines, Graciano goes through multiple stages including harvesting, fermentation, pressing, aging, clarification and bottling. 
Is Graciano Sweet?
Graciano is a dry Spanish wine which has the ability to age well and provides a highly strong aroma and a deep color of red. 
What Should I Pair Graciano With?
Graciano is best paired with red meat dishes.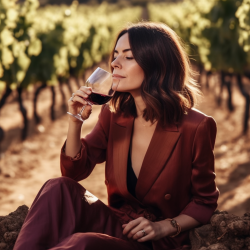 Latest posts by Sarah Perez
(see all)