To many people, wine is life (especially to Petronius). If you love wine as much as we do, then we know that you are going to love this collection of wine quotes. There are sayings here for any occasion!
Just take a moment and find your favorite… over a glass of wine, perhaps?
Some Of The Best Wine Quotes You Could Hope To Read
"My only regret in life is that I didn't drink more wine." – Ernest Hemingway
"His lips drink water, but his heart drinks wine" – E.E. Cummings
"Too much of anything is bad, but too much Champagne is just right." – F. Scott Fitzgerald
"I cook with wine. Sometimes I even add it to the food." – W.C. Fields
A man, fallen on hard times, sold his art collection but kept his wine cellar. When asked why he did not sell his wine, he said, "A man can live without art, but not without culture."
"I am not sure I trust you.", "You can trust me with your life, My King.", "But not with my wine, obviously. Give it back." – Megan Whalen Turner, The King of Attolia
"I pray you, do not fall in love with me, for I am falser than vows made in wine." – William Shakespeare, As You Like It
"Ask not what wine has done for you, but rather what you're willing to do for wine."
"Champagne is appropriate for breakfast, lunch, or dinner." – Madeline Puckette
"Uh-oh, out of alcohol. Better call wine-one-one."
"There are days when solitude is a heady wine that intoxicates you with freedom, others when it is a bitter tonic, and still others when it is a poison that makes you beat your head against the wall." –Sidonie-Gabrielle Colette, Œuvres complètes
"I only drink wine on days that end with a "y"." (Also check out National Wine Days To Add To Your Calendar)
"Wine flies when you're having fun."
"I feel sorry for people who don't drink. When they wake up in the morning, that's as good as they're going to feel all day." – Frank Sinatra
"Wine is the answer. I just don't remember the question."
"Men are like wine—some turn to vinegar, but the best improve with age." – Pope John XXIII
"Life is too short to drink bad wine."
"Home is where the wine is."
"I serve your Beaune to my friends, but your Volnay I keep for myself." – Voltaire
"With wine and hope, anything is possible."
"Beer is made by men, wine by God." – Martin Luther
"It's a smile, it's a kiss, it's a sip of wine … it's summertime!" –Kenny Chesney
"Wine and friends are a great blend." – Ernest Hemingway
"Age appears best in four things: old wood to burn, old wine to drink, old friends to trust and old authors to read." – Francis Bacon
"It takes a lot of beer to make good wine." – Lou Preston, Preston Vineyards
"Where there is no wine there is no love." – Euripides
"If reassurances could dull pain, nobody would ever go to the trouble of pressing grapes." – Scott Lynch, The Lies of Locke Lamora
When it comes to wine, I tell people to throw away the vintage charts and invest in a corkscrew (Also check out How To Open A Bottle Of Wine Without A Corkscrew). The best way to learn about wine is by drinking. – Alexis Lichine
"A meal without wine is like a day without sunshine." – Jean Anthelme Brillat-Savarin
"Wine is the most healthful and most hygienic of beverages." – Louis Pasteur
"Wine is bottled poetry." – Robert Louis Stevenson
"Wine makes daily living easier, less hurried, with fewer tensions and more tolerance." – Benjamin Franklin
"A bottle of wine begs to be shared; I have never met a miserly wine lover." – Clifton Fadiman
"A gourmet meal without a glass of wine just seems tragic." – Kathy Mattea
"Wine makes every meal an occasion, every table more elegant, every day more civilized." – Andre Simon
"Wine… the intellectual part of the meal." – Alexandre Dumas, 1873
"Accept what life offers you and try to drink from every cup. All wines should be tasted; some should only be sipped, but with others, drink the whole bottle." – Paulo Coelho, Brida
"I love everything old—old friends, old times, old manners, old books, old wine."
"Gentlemen, in the little moment that remains to us between the crisis and the catastrophe, we may as well drink a glass of Champagne." – Paul Claudel
"Wine cheers the sad, revives the old, inspires the young, and makes weariness forget his toil." – Lord Byron
"One drop of wine is enough to redden a whole glass of water." – Victor Hugo, The Hunchback of Notre-Dame
"No nation is drunken where wine is cheap, and none sober where the dearness of wine substitutes ardent spirits as the common beverage." – Thomas Jefferson
"We all need something to help us unwind at the end of the day. You might have a glass of wine, or a joint, or a big delicious blob of heroin to silence your silly brainbox of its witterings but there has to be some form of punctuation, or life just seems utterly relentless." – Russell Brand, My Booky Wook
"He who aspires to be a serious wine drinker must drink claret." – Samuel Johnson
"One should always be drunk. That's all that matters…But with what? With wine, with poetry, or with virtue, as you chose. But get drunk." – Charles Baudelaire, Paris Spleen
"A bottle of wine begs to be shared; I have never met a miserly wine lover." – Clifton Fadiman
"High and fine literature is wine, and mine is only water; but everybody likes water." – Mark Twain
"In the order named, these are the hardest to control: Wine, Women, and Song." – Franklin P. Adams, The Ancient Three. Dictionary of Quotations, Bergen Evans, 1968.
"A bottle of wine contains more philosophy than all the books in the world." – Louis Pasteur
"There's nothing I would rather share than a glass of wine with you."
"Wine is life." – Petronius, Roman writer
"Let us have wine and women, mirth and laughter, sermons and soda water the day after." – Lord Byron
"We are all mortal until the first kiss and the second glass of wine." – Eduardo Galeano
"Give me books, French wine, fruit, fine weather and a little music played out of doors by somebody I do not know." – John Keats
"Wine can be a better teacher than ink, and banter is often better than books" – Stephen Fry, The Fry Chronicles
"Either give me more wine or leave me alone." – Rumi
"I should say upfront that I have never been in a cellar in my life. In fact, I can see no reason why anyone should ever go into a cellar unless there is wine involved." – Rachel Hawkins, Hex Hall
"Come quickly! I am tasting stars!" – Dom Perignon
Final Thoughts
Do you love wine as much as the people who make these remarks? You can only imagine all of these sayings being made up with a glass in one's hand.
Which wine quote is your favorite (Also check out Wine Instagram Captions and Hashtags You Need to Use)? Comment below to let us know!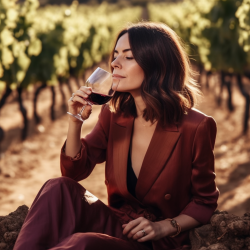 Latest posts by Sarah Perez
(see all)